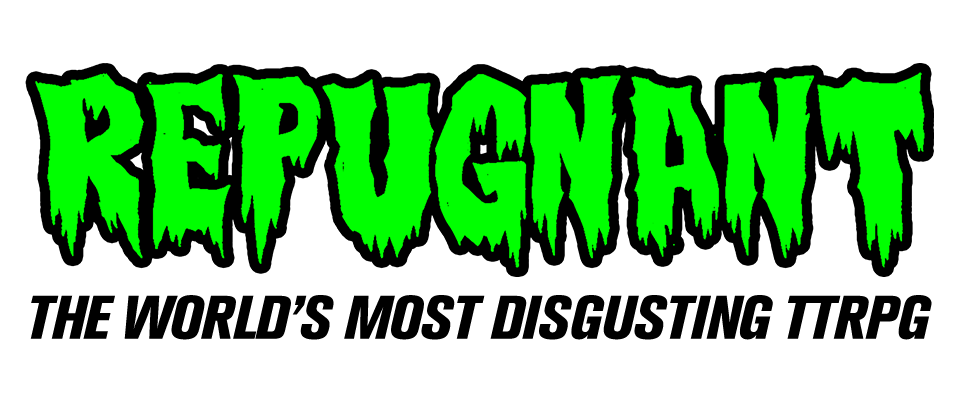 Repugnant!
You pick your way over the heap of discarded disposable diapers and crest the hill. You feel your bowels squelch and the air thicken as you summon the power of smellomancy from within. Your pock covered companion greasily slips along near the moist pools of vomit surrounding the Yecchy's layer and collects a sample of their tainted bile. As they close the top of their Burperware container a moldy can of half-eaten anchovies skitters down one of the nearby slopes of garbage, heated to near perfection by the midday sun. Your companion pauses and listens, moving their hand up to pop a zit at the Yecchy should it awaken...
A moment passes. Silence.... that is broken by a rancid pop of a fart...
As the Yecchy awakens…

In Repugnant you take on the role of a Dweller, someone living, working, and trying to get through the day on this thick layer of filth, garbage, and planetary fluid called The Crust. Repugnant RPG pairs the art, creative vision, and world-building talents of John de Campos with the malleable mechanics, tantalizing text, and savvy system building skills of Tony Vasinda. Repugnant RPG is a Tabletop game for 2-7 players where gross is the goal.

66 pages of foul fun and gross gameplay.
A unique setting called The Crust that's toe jam-packed with adventure.
Five original Revolting Races and unique Messy Mutations.
Character sheets, GM tools, and tables to help you get up and playing right away.
Over a dozen creatively cruddy critters for your Dwellers to deal with.
A full map of The Crust by Kyle Latino
Amazing art by John de Campos of Terrible Games.
Access to our original D2 based Covered in Chit System.

How To Play
Purchase
In order to download this game you must purchase it at or above the minimum price of $14 USD. You will get access to the following files:
Repugnant Zine B&W
159 MB
Repugnant Zine Color
156 MB
if you pay $17 USD or more
Download demo